A concrete paving project represents a sizable investment in terms of time and resources, but the result can be a long-lasting, resilient surface that will stand the test of time. To get that desired result, however, you must first find a quality concrete construction company. There are also some things that should be done before the project begins to ensure that you get a high-quality finished product when the work is completed. Concrete driveway construction can add value to your home and provide you with an easy to maintain, durable parking surface.
If you've never undertaken a concrete project before, then you may not know what to expect after contacting
concrete construction services in Fairfax County for estimates. Of course, your concrete contractor will serve as the expert and your guide through the process, which is why it's important to choose wisely when hiring a concrete construction company. In the meantime, there are some important steps that should be completed before beginning your concrete paving project. Keep reading to learn more about the important steps your contractor should take before beginning a concrete paving project.
Project Planning
While it may seem obvious, it's important that you and your concrete contractor discuss the plan for completing your concrete project before work begins. Unlike other types of construction that can be amended or removed easily if a mistake is made, concrete is far less forgiving. An error or mistake can result in the wasting of expensive materials, an extended completion timeline, and considerable demolition required to undo errors. Planning is key when beginning a project, so have a lengthy discussion with your contractor to make sure everyone is on the same page. Make sure to talk in terms of details and ask as many questions as necessary to get a firm understanding of the project's scope and progress. Once the details are confirmed, a start date can be selected. That's an important consideration because concrete projects take time, and the adjacent areas and paved surface will be unavailable for a while.
Physically Outline the Project
Once the conceptual outline of the project has been completed, your concrete contractor will take the dimensions discussed in your planning conversation and create the physical parameters of the concrete project. The first step may be to use measurement tools to create straight lines and square corners on a slab, for example, then designate the area with taut string to mark the boundaries. Eventually, the contractor will use those measurements and markings to erect wooden forms into which the wet concrete will be poured.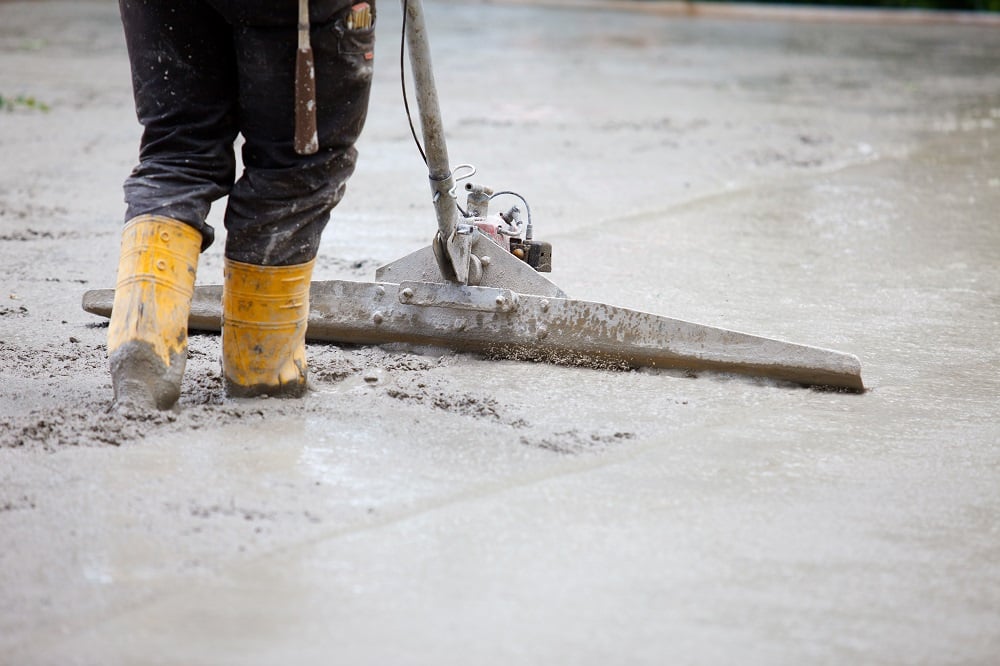 Surface Preparation
The contractor must then examine the surface that's to be paved to determine what type of remediation will be necessary. If the surface was previously paved with asphalt, then the old surface must be broken up and removed. If the new concrete will be poured over an existing concrete slab, the surface may require heating before the new slab is poured. If the ground has never been paved before, there will be considerable preparation done to get the site ready for pouring concrete. This can include digging and pouring footers, for example, that will protect the integrity of the completed paved surface. Also, a base layer must be established, which usually entails the placement of 8 inches of base material such as crushed stone or concrete.
Drainage
Concrete can be undermined if there isn't sufficient drainage underneath the surface. Also, drainage is an important consideration above the surface as well, since pooled water can create a hazard and speed the degradation of concrete. Therefore, it's important that the contractor takes steps to improve drainage before beginning the project. This could include installing drains beneath the concrete that will prevent water from pooling against the edge of the slab or making sure the top surface of the concrete has enough fall to force water to run off it. Once the concrete is set, remediating drainage issues becomes much more difficult, so it's important that the contractor accounts for drainage and develops a plan for dealing with it before the concrete is poured.

If you're planning a concrete paving project, expect your concrete contractor to attend to these tasks before the concrete has been poured into the forms. To learn more about the important steps that precede a concrete paving project, contact Alfredo's Construction Company at (301) 316-1603.